Bean and Kale Soup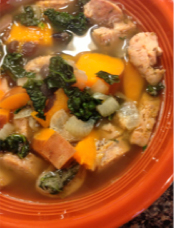 Makes 4-6 Servings
Ingredients
1 onion, diced
1 large sweet potato, diced
2 ribs of celery, diced
1 Tbsp coconut oil
2 cloves of garlic minced
1/2 tsp dried ground rosemary
1/2 tsp dried thyme
1 bay leaf
1/2 tsp black pepper
1 cup black beans, dried (or canned, if canned use "Eden Organic" for a BPA-free lining)
2 cups of diced nitrate free sausage
5 cups water
1 teaspoon sea salt
1/2 poun kale, stems and center ribs discarded and leaves chopped into bite size pieces
1/4 cup freshly grated parmesan cheese (optional)

Directions
1. Dice onion, carrot, sweet potato and celery into even 1/2 inch pieces
2. In a medium post, heat oil; add onion, carrot and celery. Saute for 4 to 6 min or until onions are translucent.
3. Add beans, bay leaf, pepper, salt, sweet potato and 5 cups of water.
4. Cover the pot and bring up to a boil. turn down heat and simmer for 50-60 minutes until beans and sweet potato are tender. *If using canned beans reduce cooking time to 20 minutes.
5. Add 1/2 cup to 1 cup more water until desired consistency.
6. Saute sausage in pan, then add to the other ingredients.
7. Add kale and simmer, stirring occassionally until kale is tender 10-12 minutes.
8. Add fresh garlic and dried herbs and saute 1 more minute.
9. Serve soup garnished with freshly grated parmesan cheese (optional).