Alex's Story of Recovery
Being born and raised in Colorado I've been relatively active my whole life. I've always viewed myself as a jock and an outdoorsy person, a real guy's guy. Growing up playing football, basketball and baseball, the notion that later in life, I would be brought to my knees by a cunning and baffling sugar addiction and compulsive eating problem was the furthest thing from my mind. But that's what happened.

In 2014, my vocation as a residential building contractor afforded me the opportunity to set my own schedule. This 'freedom' of schedule translated into a scenario where there wasn't a convenience store or fast food joint that didn't own me. Delaying appointments, showing up late to meetings and rescheduling entire projects so I could sit in line at a drive through was a standard operating procedure. It was a living hell.
No self imposed discipline, diet or excessive exercise could dissuade my obsession with food. I couldn't stop eating. Progressively, the physical and emotional pain I was in became totally unbearable; my chronic depression and anxiety worsened. I was on multiple prescription medications for physical aches and pains, depression, anxiety and a sleep disorder. I hated myself and was filled with anger, shame and guilt. I was convinced that the best days of my life were behind me and I became preoccupied with suicidal thoughts.

My fiancé at the time recognized the life threatening nature of my sickness and found COR Retreat online. Being in a state of complete denial about my condition, it took me another year of darkness, isolation and intolerable pain before I picked up the phone and called Michelle at COR. These were my exact words to Michelle, "Am I going to be the only guy there? I don't want to be sitting around all day with a bunch of fat old ladies". I have no recollection of what Michelle said to me that day, but all I know is that two weeks later I was on a plane to Minnesota attending my very first COR Retreat.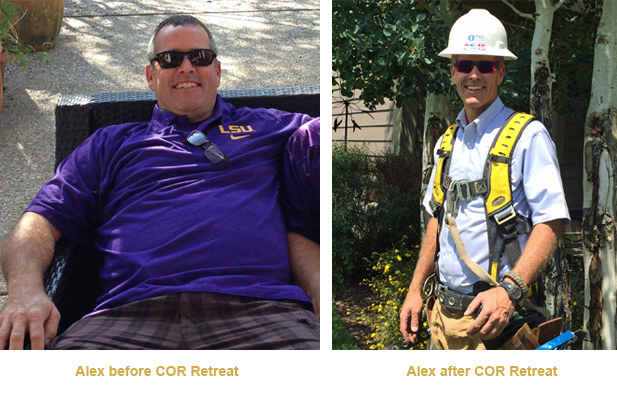 Scared and anxious, I forced myself to walk through the doors at the retreat. Much to my surprise, there were no groups of circled women singing Kumbaya in the lobby. Rather, I was greeted by the warm smiling faces of the alumni, volunteers and staff. Concerns of gender, body shapes and sizes no longer took up valuable space in my brain. A welcomed, if not unfamiliar, feeling washed over me that first day. I had somehow come home.

While attending COR I went through a roller coaster of emotions. But by the fifth and final day, something akin to a total miracle had happened. My obsession and craving for the sugar, white flour and diet sodas had been lifted. Somehow, I was free from the bondage of the foods that previously enslaved me. Prior to attending COR Retreat, I could never have imagined a life without sugar, junk food and diet soda.

Almost two years after attending COR, I'm still abstinent from sugar, white flour and diet soda. My life is profoundly different in a positive and meaningful way. I'm off all prescription medications. I have a sense of clarity and purpose that I've never experienced before. I'm actively working the program and I'm getting along better than ever with my family and friends. The anger, guilt and shame brought on by my addiction have been replaced by a sense of freedom, gratitude and joy.
One of the many valuable and profound lessons I learned at COR is that gender or body size has no bearing on recovery. We are not our body shapes or sizes. We are all individuals with unique talents and gifts bound together by the human condition and a knowledge that we are all in this together. So if you're a guy or a gal contemplating attending COR Retreat, just remember, you're not alone. If it worked for me, it can work for you too!

Subsequent to attending my first COR Retreat in October 2015, I have attended EnCOR and a second COR Retreat. I like to tell people that the reason I keep returning to COR isn't because it doesn't work, I keep returning because it does work! Nowhere else can I get the unconditional love, support and acceptance that my good friends Michelle, Linda Lou and all the volunteers can offer. My goal is to get back to COR or EnCOR at least once a year to recharge my batteries and give something back to the very program that helped save my life.
About COR Retreat
COR Retreat is a residential retreat program that teaches a way to live free from the obsession with food through a 12 step program. COR Retreats are 5-day programs, scheduled each month at the McIver Center in Wayzata, MN.
Learn more about the COR Retreat Experience, and register online to attend an upcoming retreat.