Alissa's Recovery Journey
Before COR Retreat I could not admit I had a food problem. In my mind, I only had a weight problem. For years I watched the numbers on the scale rise and fall, and I felt victorious every time my weight reached an acceptable number. That number represented me winning against a diet and I really liked winning.
For years I had basically taken on a part-time job exercising or "training" for endurance events, which meant I could keep eating a lot of my favorite treats and at times the number on the scale would still go down! The completion of the event brought on a resting period but I still felt entitled to eat anything I wanted because I had put in so much hard work for several months prior to the event. Then, of course, the number on the scale would go back up even higher. I joined a few challenges at my gym competing for large cash prizes. I saw amazing results each time with my body and on the scale, but when I wasn't named the winner or even in the top five it was the gym's fault. They didn't have specific enough criteria for determining the winner or they were impartial in choosing; and because I never won it wasn't worth continuing so again the scale went up, even higher than before. But in the fall of 2017 I could not muster up the motivation or commitment to sign up for the next race or challenge and I had no willpower to diet so the number on the scale kept creeping higher and higher until even my "fat pants" were very tight. I was sad, depressed and ashamed.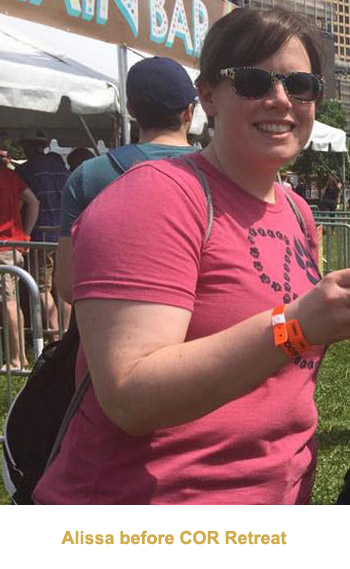 In January 2018, my therapist (who in the past had suggested I check out OA, a suggestion I dismissed in the blink of an eye) mentioned COR Retreat. She knew a few people who had attended that lost nearly 100 pounds, and kept it off for years. I was very skeptical but even more desperate for a solution to my "weight" problem, so I visited the COR Retreat website. After reading and listening to the stories, I knew COR was where I belonged. I registered within days and walked through the doors for COR 81 on February 7, 2018. The first night at COR I realized I hadn't completed all those races or entered any challenges for me, I did those things for the scale. This time, I was at COR for myself.

In working my program the past year it became apparent early on that I needed to start using my voice. I needed to start speaking up and voicing my ideas. For so long I was listening to the old tapes in my head telling me what I had to say wasn't important or others didn't want input from me. I needed to start asking questions. I grew up with this idea that I was just supposed to know things. There were scary and serious situations unfolding around me, but no one explained what was happening and I was too afraid to ask. This carried through my life and there were occasions I spent hours trying to find an answer to something because if I asked a question someone may think I was stupid. During those hours I would feel anxious, and eating always helped numb some of that.

I needed to start singing again! I love to sing and music has always been a big part of my life, but I have always been nervous to share it with others. In the several years prior to attending COR Retreat the music in my life had gone quiet and I was doing my part to keep it quiet by isolating and turning to food for comfort.
At COR Retreat I felt at home and open to receiving. I learned I was not alone and that there was another way to live. I learned the problem wasn't my weight, but that I had shut myself off from the sunlight of the Spirit. Everyone I met at COR, from the facilitators and speakers to my fellow attendees, taught me so much and the best way for me to repay them is to share it with others. I learned the scale is not the measure of my worth, it is simply a device that transmits information and I now use it once a month. So far it has indicated a release of 48 pounds over the past 13 months. I learned that a conversation with my Higher Power is a prayer, even if I am not kneeling down with my hands folded. I learned that by helping others my life and my program grows tenfold. I learned to start speaking up and that it's OK to say no when someone brings free treats to work because I know the real price of those treats. I learned that by being true to myself, working a program of recovery and doing things for me and not for the scale, I receive the gifts I need.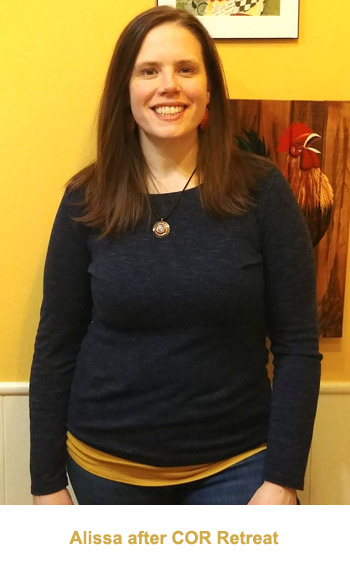 I want to share two stories about special and unforgettable gifts I have received over the last year. In 2015 one of the challenges I entered at the gym had a prize of $1,000 and when I didn't win I was really devastated. I wasted so much time and energy ruminating about it, and I had some major resentments aimed at the institution and a few individuals, including the winner of course. After I attended COR I knew I wanted to come back for EnCOR the following month. Although I could afford it, it seemed like a lot to spend in back-to-back months. One day I received a message that someone I had met through COR was offering me a scholarship to attend EnCOR. I was astonished and overjoyed! I shared this with someone who knew my story well and she said "isn't the registration for EnCOR close to the amount you were trying to win in that challenge?" My jaw dropped. I hadn't even thought of that. I didn't win that challenge because I wasn't doing it for me and it wasn't where I needed to be. By attending COR and being myself I won something even better!

In early February this year my grandmother passed away. I received a text from my mother who was with her family going over funeral plans. She indicated my grandmother requested that I sing Ave Maria at her funeral. I had such mixed emotions but I felt privileged that I could honor my grandmother with my voice. I did just that on February 7, 2019, which also happened to by my one year abstinence date. Life is truly amazing when you are walking in the sunlight of the Spirit! COR Retreat, and my sisters and brothers in OA, have changed my life by walking along with me.
About COR Retreat
COR Retreat is a residential retreat program that teaches a way to live free from the obsession with food through a 12 step program. COR Retreats are 5-day programs, scheduled each month at the McIver Center in Wayzata, MN.
Learn more about the COR Retreat Experience, and register online to attend an upcoming retreat.