Beth's Story of Recovery
I remember my oldest brother calling me wormy when I was in middle school because I was so thin. Then at only 12-years-old my father died of heart disease. A short nine months later my mother was diagnosed with breast cancer. I was only 17-years-old when she lost her fight. I believe this was a significant time in my life, a turning point when I began to close down emotionally to keep the feelings of sadness away. I felt very alone and food started becoming the one thing that helped me get through those difficult years. Pastries and ice cream were my fix of choice; however if it was sweet it would do.
Ah yes, footsteps, this was a good sound for a compulsive eater because it meant the gorging could begin. It means my supervisor will be going home for the day. She was a tall, extremely thin lady, who, I swear purposely filled a round basket outside her office door with bite size candy bars on a daily basis. She, of course, didn't eat them. They were for the weak of heart that couldn't walk by without grabbing one or, in my case, pockets full of them. I walked by that basket many times, especially over the noon hour when no one was around. I was unable to think about the job at hand I was only interested in getting multiple candy bars. I always loved the days when my outfits had pockets in them. Some days I would manage to eat 20 candy bars; one after another and then when those were gone I would go fill up my pockets again. If I began feeling nauseous I would stop eating but as soon as my stomach felt better I would be back at it. Is anyone looking? If they were I simply stopped by their office and dropped off a candy bar for them so they could join in the uncontrollable misery.
Rock bottom came when I ate a 10-inch ice cream cake by myself within a 24-hour period. I knew something had to be done. I had heard about COR Retreat on the nightly news. They were interviewing Michelle Goldberger and I turned away from my plate of food to watch. I said to myself, "I need to go there!"
I have tried every diet known to man so COR Retreat was just another stop on my journey of compulsion and addiction solutions. Not knowing what to expect, I arrived at the doors of COR Retreat 14. I was greeted by a graduate of a previous COR Retreat group. She made me feel at home right away, which was significant since I tend to be anxious around new people. After the first night of discussions, I was certain I had come to the right place. For the first time in my life I began to understand my craziness. This is a disease. Finally a name for it. Here in this room I heard stories that I could relate to. It was not only me that had an addiction to sugar, we were all in the same boat, all doing whatever we had to for our fix. This was single most important turning point for me because I could finally begin to understand what was going on in my body. If I could understand it I was sure I could fix it. The truth was in front of me and somehow that felt good. Now that it had a name my journey of recovery could begin.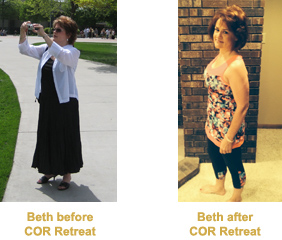 My COR Retreat experience has never felt like a diet, it became a way of life. I taste food now instead of just consuming it. I believe my life is more peaceful, prayerful and I know I am more compassionate and understanding of other people.
Since walking out of the doors at COR Retreat, I am 30 pounds lighter. I am off my blood pressure medication and I feel peaceful and alive. COR Retreat has made me a better person in so many ways. My abstinence is important and my priority. It has given me strength to change things in my life that were not good for me on a spiritual level. I am really living; my life is not revolving around food. Life is good!
About COR Retreat
COR Retreat is a residential retreat program that teaches a way to live free from the obsession with food through a 12 step program. COR Retreats are 5-day programs, scheduled each month at the McIver Center in Wayzata, MN.
Learn more about the COR Retreat Experience, and register online to attend an upcoming retreat.