Bill's Story of Recovery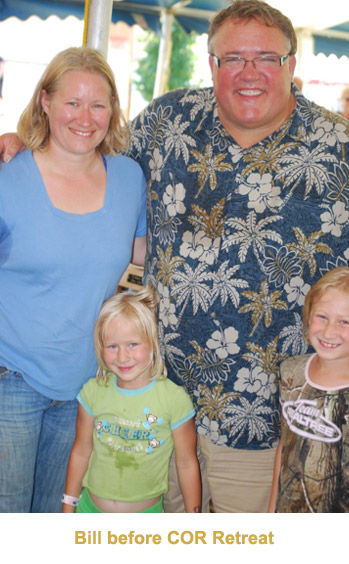 It is my 6-month anniversary for attending COR Retreat. My journey began as I looked down at the scale one day and realized that I weighed over 400 pounds. Everything hurt. Simple everyday tasks like tying my shoes and clipping my toenails were becoming difficult to the point that I was ready to just start wearing loafers and paying somebody for a pedicure every few weeks. My weight had been on a rollercoaster since college, but this was clearly getting out of control for me.

My friend quit his professional job and had rented office space to become the head of a treatment center. He worked in the same field in which I worked and I knew him to be an alcoholic that had been sober for over 20 years. I called him up and asked that we meet at a bagel shop for a cup of coffee. It was here that I admitted to him that my weight had become unmanageable. I was hoping that he could help me treat it like an addiction and tackle this thing an entirely different way. I didn't realize that my entire life had become unmanageable.
How could someone like me, a guy with a tremendous work ethic, incredible discipline, willpower and tenacity, a skilled professional who over the last year had been named to three different Hall of Fames in three totally different fields not be able to pull his own life together enough to keep his weight under control? I asked this of my friend, and his response was something like, "You think you're such hot shit, but your entire life is spinning out of control."

"What do you mean?" I said. "I'm at the top of my game professionally. Did I mention I just got named to three different Hall of Fames?"

He laughed and said, "Yet, you are here at a bagel shop at 4:30 in the afternoon reaching out to an alcoholic for help. You are such an addict."

I broke down.

"Tomorrow morning," he said "If you are willing we will begin working on a simple plan of recovery. Are you willing?"

Through tear-stained eyes I nodded, "Yes, I am willing."

The next day my friend began teaching me the 12 steps and he remains my sponsor today. As I continued to meet with him daily at the treatment center finding an hour here and an hour there each day when he could break away from his daily duties, I found myself dipping my toe in the water, but not entirely committing myself to a plan of action.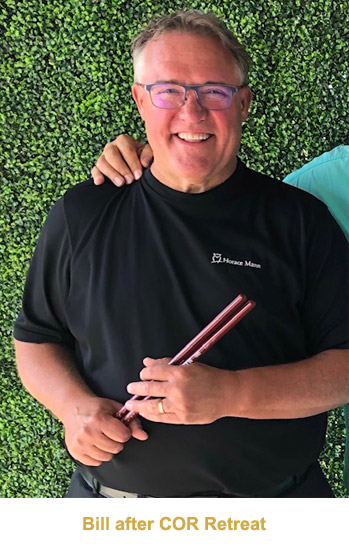 I said, "I wish there was a place I could go that could help me jump start this whole process--a place like this treatment center where you guys help people with addiction."

"Give me your phone," he said. He handed it back to me with the COR website pulled up and said, "Here. Call them." "Okay," I said. "Like now," he added. So I did.
A week later I found myself walking into COR Retreat having just stopped at the Holiday across the street to grab a chocolate cherry donut which I ate right in the COR Retreat parking lot. I also purchased the naughtiest chocolate mocha cream sugary coffee thing I could get my hands on and smuggled it into the retreat. As I sat in the first session with my brand new Holiday coffee cup taking in every sugary sip, I listened to Nancy, the COR director and trusted servant, tell her story and eventually I completely gave myself over to the program. At COR Retreat, I was able to hear empowering stories from COR alumni and attended my first Overeaters Anonymous meeting with other people in recovery. It was there that I jump-started my own personal plan of action which today has not only helped me release 100 pounds but has helped me in so many other ways I never signed on for originally.

To be clear, the greatest benefit has not been the weight loss. Working the 12 steps has been the most powerful thing that has ever happened to me in my life. I'm a better person, a happier person, a better servant, a better husband, healthier in both mind and body, and for that I am eternally grateful.
About COR Retreat
COR Retreat is a residential retreat program that teaches a way to live free from the obsession with food through a 12 step program. COR Retreats are 5-day programs, scheduled each month at the McIver Center in Wayzata, MN.
Learn more about the COR Retreat Experience, and register online to attend an upcoming retreat.