Janis's Story of Recovery
A year ago, it simply took spilled milk to lose it. I felt different all my life, like I was missing a piece of normalcy. Food seemed to fill that missing piece from as far back as I can remember. It started out as a friend in childhood, sugar/white flour combinations (cookies and cake) were fun. It became my crazy lover that made me wind up in treatment through puberty. Binging and purging sugar/white flour mixes till I wanted to die.
Then in adulthood, sweets became an obsession that I couldn't wait to be alone with. The simple things in life put me over the edge and food was my solution, but it left me empty and depressed. Trying every possible diet through the years, I have lost and gained most likely 500lbs. My top weight was 300lbs. Every diet I tried, I would "white knuckle" it through and run right back to my sugar/ white flour solutions.
I heard someone say what a person does when they think that no one is watching, defines their integrity. I was sick to my stomach at the thought of this, because when I thought no one was watching, I binged on food.

The search for integrity brought a couple of life incidences and angels thankfully steering me to COR Retreat. I was desperate to find the secret of being normal, normal to me being defined as a life without a food obsession and the ability to maintain a healthy body weight. COR Retreat took the food worries out of my head while I was there. I cried the first day, they were like detox tears.
I simply followed the day's schedule, the food plan, the step plan, and listened to the speakers. This was important to me in my surrender. I knew I did not know or hold the answer. I heard so many amazing stories of recovery from the speakers that came to COR Retreat. It gave me hope. I wanted what they had and I prayed for the willingness to do what they did. Experiencing people with integrity led me to know that I was in the right place.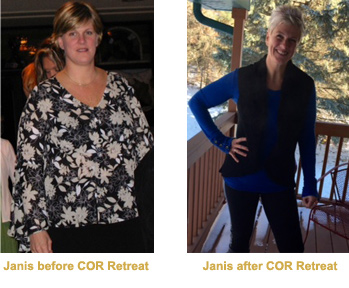 Every person that shared at COR Retreat while I was there, truly seemed to care about my recovery. Michelle made sure I did not leave without a sponsor. My sponsor kept what I learned at COR Retreat going day by day in my return to the "real world."
When I look at my 375 days since leaving COR Retreat, I am grateful. I did not have to work this program alone. Day by day, with the support of others, through meetings, phone calls and giving service, I have learned to have fun in life without processed sugar/white flour involved. I trusted in the roads that others like me have paved before me. I can say I have integrity today because what you see is what you get. This was achieved day by day, with the help of my sponsor, the consult of a nutritionist, on COR Retreat's meal plan, and working the steps. These actions have given me a 60 pound weight loss, sanity around food, confidence, and a solution to life's "spilled milk."
I enjoy helping Michelle and others out at COR Retreat when I can. It's like a homecoming, because my life truly changed for the better after COR Retreat. Other people in my life have pointed out a change in me before I even knew that there was one. My cornerstone was definitely laid at COR Retreat. I do still think I'm different. However, that's in a way that is being used to help others lovingly and happily.
I wish every person, compulsive overeater or not, could treat themselves to the rejuvenating experience COR Retreat delivers, once in their lifetime.
About COR Retreat
COR Retreat is a residential retreat program that teaches a way to live free from the obsession with food through a 12 step program. COR Retreats are 5-day programs, scheduled each month at the McIver Center in Wayzata, MN.
Learn more about the COR Retreat Experience, and register online to attend an upcoming retreat.