Kristen's Story of Recovery
June 13, 2014 marks one year since I attended COR Retreat 29. Similar to other COR Retreat attendees, I've been overweight the majority of my 40+ years of life. In the six months leading up to COR Retreat 29, I had been following a food plan and participating in a 12 step plan. I had even lost 40 pounds, yet I kept falling off the wagon, going back to old habits; after all, 'look I'm losing weight – I can stop now and take it easy'. Maybe you can relate? In 2013, Easter candy is what put me over the edge, yet again, and weight started to come right back on. Damn it…here I go again! How will I ever shake this? I just - couldn't - do it - on my own.
So, what got me to COR Retreat 29? Fate. Hope. A referral from a fellow suffering compulsive overeater who had been to COR Retreat before. I finally signed up - a four hour drive from my home, with plenty of time to fill up on any last minute foods I'd 'never eat again'. I came to COR Retreat ready to do something different, yet scared to death to do it all at the same time. From the first night, it was a rude awakening. As we were finishing up introductions, one person in our group collapsed in front of us all and had a seizure. On the floor. Out cold. Of the 17 of us, four were healthcare professionals who were full time doctors or nurses. This person had help in an instant and was transported shortly thereafter to the hospital. Geez, Higher Power – did you have to slap me in the face my first night with why this is such a deadly disease? Really? That incident shook all of us up.
Over the next five days, COR Retreat brought me clarity and humility and it taught me to stop thinking and just do - as others have done before me. Thinking didn't get me into this body size/shape and it wasn't going to get me out of it. Amazing experience of listening to others just like me, sharing my letter to food, meditating every day, and finally starting to be 'willing to be willing' – THAT was amazing. I had never started my days so consistently with just being quiet. I still am thankful for that experience, because it made me realize how easy meditation can be, and set me up for success after COR Retreat. I finally recognized my 'allergy' to sugar and white flour. I FINALLY understood that I am a food addict. Period. End of Story. Acceptance was the key, and COR Retreat got me there, one day at a time, without sugar and without white flour.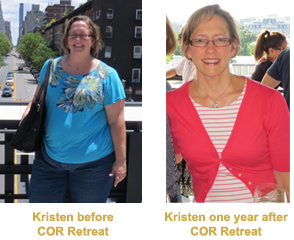 365+ days later, I still abstain from sugar and white flower. What has changed? It is because of COR Retreat that I finally gave up the illusion of a 'gentler, kinder way' and accepted that drastic change had to occur in my life. I am also now 'kinder and gentler' to myself, which is what keeps me in recovery. I am still imperfect. Yet I've come to accept that too. I am making progress, physically, spiritually, emotionally. Physically, I've continued to lose weight, with help from the tools of the program, a sponsor, fellowship, service to others. I've lost 65 more pounds since going to COR Retreat, 105 pounds total. I no longer shy away from running after my 3 and 6 year old daughters. I own AND wear dresses – cool! My stats are normal – blood pressure, triglycerides, cholesterol. Spiritually and emotionally, I now pray and meditate regularly, and I ask for help from my Higher Power and from others – from fellow COR Retreat alumni, and other food addicts. I am a calmer and nicer person, mom, and partner. I continue to work the steps with my sponsor. I believe in a higher power and I use tools learned in the retreat, because COR Retreat taught me how. And I mess up. My will still kicks in, and I have to work to give it up. As the big book says:
"Do not be discouraged. No one among us has been able to maintain anything like perfect adherence to these principles. We are not saints. The point is, that we are willing to grow along spiritual lines … We claim spiritual progress rather than spiritual perfection."
I keep making progress and moving forward. My mind, more specifically, my inner food addict, wants to make me go back to the way I used to be. That force can be very strong sometimes, and has led me into difficult days in my recovery. AND, I continue to start anew every day. Thank you, Higher Power, for hope, for a new way of living, and for the chance to be at peace, one day at a time.
About COR Retreat
COR Retreat is a residential retreat program that teaches a way to live free from the obsession with food through a 12 step program. COR Retreats are 5-day programs, scheduled each month at the McIver Center in Wayzata, MN.
Learn more about the COR Retreat Experience, and register online to attend an upcoming retreat.