Yolanda's Story of Recovery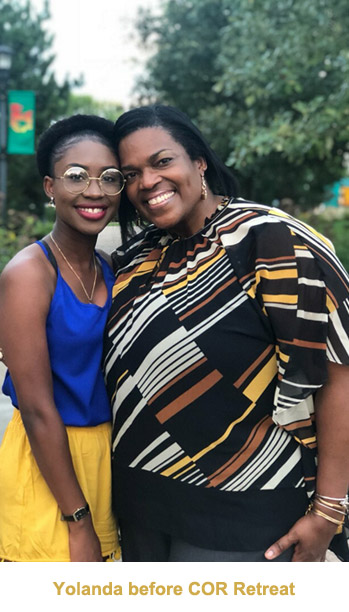 At the age of 9 years old, at a routine physical, I learned that I weighed 209 pounds. My father exclaimed, "There is no way my 9-year old daughter weighs more than I do as a full grown adult male." The memory of having to step back on that scale while my father, a nurse and my pediatrician hovered over my shoulders with looks of shock and disbelief, will forever be etched in my memory. At that point, the doctor said, "This will be a lifelong struggle for Yolanda." Unfortunately, his ominous prediction became my truth.
My descent into food and weight obsession started soon after that fated doctor's visit. My father declared war on obesity in our home and I would forever hear phrases like, "Are you sure you are hungry?" and "Do you really need a second helping?" I became obsessed with my body, size, weight, exercise and food! In order to satisfy my urges, I started getting up in the middle of the night to sneak extra bites of leftovers and dessert, hoping that no one would notice. The stress of being watched like a hawk by my father at home forced me to find creative "away from home" techniques to get my food and sugar fix. The novelty of being a polite, well-spoken Black girl from New York City enabled me to navigate throughout new circles once we relocated to Texas. I shamelessly took advantage of all the perks that came my way which included new babysitting gigs and getting invited to after-school study groups where I could eat a wide variety of unlimited homemade sweets, chips, candy, pizza rolls, cookies...you name it. If it was offered and available, I ate all of it. When it wasn't offered, I would find ways to steal it by stuffing food into my bra, my pockets, my napkin, my fanny pack or wherever else I could find. When babysitting, I would patiently wait until the kids were asleep to raid the pantry and slip into a food coma. As long as I had food and television, and was away from my food police father, I was in heaven. However, I was getting a pudgy tummy that I knew my father would eventually notice. I needed a solution to eat and not gain weight.

One day during lunch in High School, while I was inhaling something fried and cheesy, my friend said, "Seventeen magazine says that girls are eating whatever they want and then forcing themselves to throw up to keep their weight under control. They call it bulimia. Want to try it?" Of course my answer was yes and for the next 16 years I was trapped in the vicious cycle of binge-eating disorder and was throwing up about 3 to 5 times per day. It worked to keep my weight off, but in 2001 I started to get really bad heart palpitations and knew that I was damaging my heart, not to mention my poor teeth, stomach and throat. After I stopped throwing up, that's when the weight came on like an avalanche. I tried to compensate with exercise, but there was no way that I could burn as many calories as I was eating. My weight kept climbing and climbing, so I did the next best thing: I spent $7,000 on liposuction and just had the plastic surgeon suck the fat off my hips, thighs and buttocks….because that was the clear and obvious answer to my problems. After spending all of that money, I STILL could not stop eating. On the day of my 2003 liposuction, I weighed 230 pounds and by 2012, I was tipping the scales at 372 pounds.

During those 9 years, I tried so many diets, programs and schemes, but none of them worked and my weight continued to yo-yo. I was so disgusted with myself, miserable and unhappy but could not stop my reliance and dependence on man-made diets. One year I lost 60 pounds following a Christian program called Prism and the very next year I gained 100 pounds. Then I lost 85 pounds on Medifast and then regained all of it the next year. From Deal-a-Meal to Susan Powter, from juice fasts to Jenny Craig, from Weight Watchers to Weigh Down, from Keto to Paleo, you name it, I tried it. I was constantly searching for a weight loss program that would "finally be the last diet I would ever need."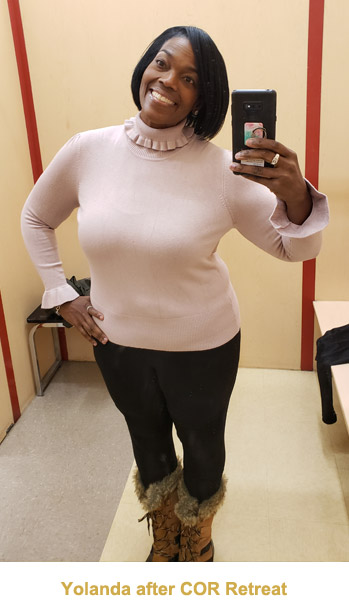 In the meantime, in between each diet, and as my jobs took me from state to state, I would occasionally pop into an Overeaters Anonymous meeting. I first heard about OA in 1995, in Atlanta, GA, but quickly dismissed the idea of following their plan when I heard that I would have to give up sugar and flour…..for the rest of my life??? You must be crazy! So, I just kept on searching for the next perfect diet, but never could find anything that would keep the weight off permanently. No matter how much I hated myself, hated my body, hated my behavior, beat myself up, prayed for a health crisis, felt like a failure, popped pills, paid doctors, did herbal wraps, joined gyms or hired trainers - I could not find a way of escape. The one saving grace was that I never gave up. I knew, eventually, that I was coming out of this crazy. I had no clue when or how, but I knew it was on the horizon. While face down in binge after binge, I would cry out to God to please help me find a way of escape.
My prayers were answered in October 2018, 10 months after I moved to Minnesota. I finally decided to give OA a try after suicidal thoughts were with me on a daily basis. The food was going to find a way to kill me, one way or another. I had panic attacks, I couldn't function and felt like I was going to have a nervous breakdown. I was blessed to have a friend in OA who told me about a wonderful face-to-face meeting that we started attending and then she told me about COR Retreat. I got a sponsor in October and on November 25, 2018, I put sugar, flour and alcohol down and never looked back. As of February 2020, my Higher Power has been gracious enough to allow my body to release 152 pounds. I still have a bit more to go and I trust that I will get there in God's timing. Working the 12 Steps has been a life-changing process and I am so grateful that the pull of the food was simply removed. My Higher Power did for me what I was not able to do for myself and I look forward to trudging the road to happy destiny, one day at a time.
About COR Retreat
COR Retreat is a residential retreat program that teaches a way to live free from the obsession with food through a 12 step program. COR Retreats are 5-day programs, scheduled each month at the McIver Center in Wayzata, MN.
Learn more about the COR Retreat Experience, and register online to attend an upcoming retreat.