Angel's Story of Recovery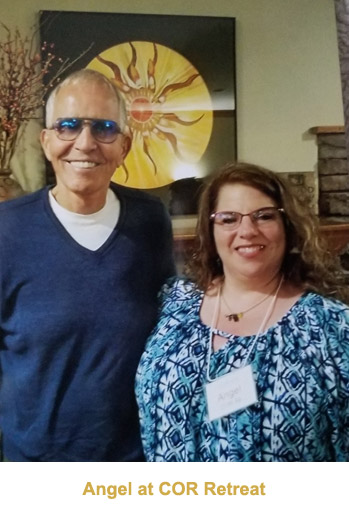 My story begins when I was 8 years old. Both of my parents were alcoholic. My father was addicted to work and my mother struggled with bipolar disorder. As the oldest daughter of three children I did a lot of mothering. With praise and continuous compliments of what a "good helper" I was, I learned quickly how to be a people pleaser. Sweets were my reward for doing household chores and food became a faithful friend. Bakery items, candy bars and chips made me happy and were part of my pay for helping keep things together.

I have a large extended family of Polish and German heritage. Food was a big part of my growing up years and my cousins and I talk about our paternal grandmother, the matriarch of the family, telling us to "Eat, eat, eat!" I think she wanted our many mouths full so we stayed quiet. I loved her frosted raisin bread. She would always encourage everyone to eat more and seemed offended if you did not fill up on her food. Her husband, my paternal grandfather, died of gangrene which I now know was a serious complication of his diabetes. Back then, nobody talked about food addiction as a primary illness.

Throughout middle school I ate out of boredom, loneliness, sadness, and stress. Although I was young, I felt responsible for so much. I remember being excited when I turned 12 so my Mom and I could take the diet pills that she ordered out of a mail order catalog. Just like most of us, I tried every diet on the planet, even the Bible-based ones. I struggled with my weight and if I lost any, I could never keep it off. I was a yo-yo dieter. I would give up and then try again. I was an emotional eater and a stress eater. In the everyday challenges of life, I was not able to stop overeating.

In 2014 we lost our 18-year-old son Dillon to a bee sting. We did not know he was allergic. Numbing out with food became the only solution for me. In the year before I found COR, two of my paternal aunties died. One lost her sight and, even in the nursing home, denied she had diabetes. The other one had heart disease, open heart surgery, and lost a leg. They both continued to eat like crap and were never able to receive or accept help with their real food issues. Next, my father who had already undergone numerous bypass surgeries, had a replacement heart valve and a pacemaker, found out his kidneys were failing. He contemplated between dialysis and hospice, as he knew the time to undergo treatment would take him away from working. His body was bloated with fluids and his legs looked like tree stumps with open sores. During this time he continued to eat the foods that were making him sick. This went on for days and weeks and months. Was this what was going to happen to me? Food addiction was in my blood.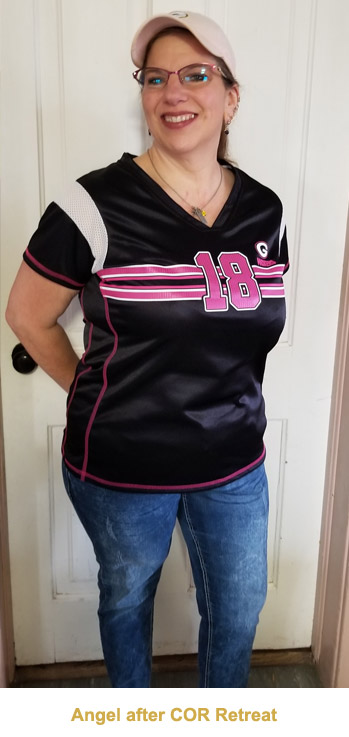 Throughout this time our family became very active in advocating for increased awareness and wider access to epinephrine pens. This could save lives in emergency situations. Food became part of these gatherings and celebrations, something to look forward to, to ease stress and provide comfort. I knew I had a problem with food. I was depressed and full of self-loathing. I would eat frozen cake straight from the freezer where I had placed it for safe-keeping. I knew it was in there and it called to me. I would buy half a dozen donuts, polish them off and hide the box, embarrassed that I had not saved any for my husband. I hid candy bar wrappers. I started looking for help. I Googled "food addiction" and "sugar addiction" and saw the COR website, which showed a food recovery program at a retreat center in Minnesota. I felt humbled when I brought it up to my husband and his response was, "Whatever you need to do for your health."

As of this writing, with God's help, I have 222 days of abstinence and have lost 70 pounds. I could not have done this alone. COR Retreat saved my life. Without recovery I know my future would mean serious health issues related to obesity and food and sugar addiction. Abstinence has lifted the veil of "protection" that numbing out with food provided. I no longer need to overeat and stuff my feelings. I allow myself to feel my feelings. I am learning. Riding the waves of grief and all other feelings is possible. Since completing COR in September 2019, I have worked through all 12 Steps. With my extended COR family and God's help, I am living as a "sober woman". I am a sponsor. This service work is rewarding and a must if I want to keep what I have found. When you feel like you can't…God can! Life will get very "lifey" and challenges are inevitable. Thinking that life will be perfect or easy when you get thinner is a myth that we must stop believing. However, working through the 12 Steps and relying on God/Higher Power, you can and will be successful!

You can learn more about Angel and her family's work on Epinephrine training and legislation at epifordilly.com
About COR Retreat
COR Retreat is a residential retreat program that teaches a way to live free from the obsession with food through a 12 step program. COR Retreats are 5-day programs, scheduled each month at the McIver Center in Wayzata, MN.
Learn more about the COR Retreat Experience, and register online to attend an upcoming retreat.